This article is protected!:
This article is protected due to the following reasons:
Due to heated discussions and disagreements regarding Arachnia's gender, this article was locked to prevent edit wars. All updates to quality standards will be carried out by administrators in due time.
Article unlocked: 23/05/1993
---
Arachnia


女郎蜘蛛

, Jorōgumo
| Attribute | Rank |
| --- | --- |
| | |
| Time | Type |
| --- | --- |
| Unknown | Classic |
| Skill | Effect |
| --- | --- |
| General | Spider Silk Ensnare |
Base Stats

Total: 670

HP


440

Spirit


140

Power


90

Speed


170

Defence


210
Stats of Arachnia is unknown.
Yo-kai Medallium biography

"A poison specialist. He is a guy who likes very girly plans, like putting poison in cakes or kissing people while having poison lipstick on."
Arachnia (Japanese: 女郎蜘蛛, Jorōgumo) is a Rank S Earth-attribute Rare Classic Yo-kai of the Eerie tribe. 
Game data
Evolution
Earth Attribute

Arachnia
Fusion
Earth Attribute

Arachnia
Stats

Stats
Calculation

HP

406

STR

216

SPR

162

DEF

157

SPD

212
This shows Arachnia's stat on level:

99

.
Movelist
Type
Name
Power
Attribute
Range

Attack

One-Two Punch
15-33x2
Single enemy

Technique

Meteor
80-120
Earth
Single enemy

Inspirit

Spider Silk Ensnare
Single enemy
The Inspirited Yo-kai is entangled in spider threads, bringing SPD way down.

Soultimate Move

Pink Doton Doton (

Japanese

: 桃色ドトンドトーン

Momo-iro Dotondotōn

)
290
Earth
Single enemy
Unleashes the power of the famous Yo-kai to strike one enemy with earth damage.

Skill

General
Power greatly increases each time it defeats a foe.
Busters Stats
YW 2
Jorogumo-Attacker
| Stat | Number/rank |
| --- | --- |
| Hp | 632 |
| Strength | B |
| Spirit | S |
| Speed | S |
| Button | Move/description |
| --- | --- |
| A | Pebble (hits an faraway enemy) |
| X | Falling Rocks (hits a faraway enemy. If charged, it does more damage) |
Kon (Soul)
Jorogumo's soul -The yo-kai who has this will strongly resist earth attribute attacks.
How to befriend
Jorogumo can be freed from the Crank-a-kai in the past with a Purple coin, Five-Star Coin or Special Coin, or in either time period with a Kira Kira Coin.
Quotes
Loafing: "Doki Doki shichatta." ("My heart is beating fast.")
History
Trivia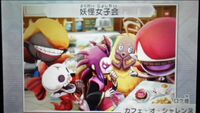 Jorogumo has a deep voice and in-game text refers to them as male. However, they have feminine mannerisms and a scene in Yo-kai Watch Busters shows Jorogumo as part of a Yo-kai Female Association along with female Yo-kai, which implies they're actually a male-to-female transgender. This likely derives from how the youkai they are based on is a female-only species.
Origin
Jorogumo takes their name from the youkai of the Nephila Clavata spider. Different from the tsuchigumo, they are female youkai that use their beauty to lure their prey, but revert to their monstrous spider form once they're in their clutches, and control hordes of smaller spiders to do their bidding.
In other languages
Ad blocker interference detected!
Wikia is a free-to-use site that makes money from advertising. We have a modified experience for viewers using ad blockers

Wikia is not accessible if you've made further modifications. Remove the custom ad blocker rule(s) and the page will load as expected.