Castelius I


キンカク

, Kinkaku
| Attribute | Rank |
| --- | --- |
| | |
| Time | Type |
| --- | --- |
| Unknown | Present |
Number
Castelius I is not numbered.
Side-games number
Castelius I is not numbered.
Favorite foods
Milk


Yo-kai Watch

Castelius I has no favorite food.
Side-game favorite food
Castelius I has no favorite food.
Base Stats

Total: 2520

HP


1080

Spirit


440

Power


1000

Speed


700

Defence


1300
Stats of Castelius I is unknown.
Yo-kai Medallium biography

"First place. Gold medals. That's your life if Castelius I inspirits you. But with great power comes great... ness!"
Castelius I (Japanese: キンカク, Kinkaku) is a Rank A Lightning-attribute Yo-kai of the Tough tribe.
Castelius I evolves from Castelius II when fused with another Castelius II, and evolves into Castelius Max when fused with a Platinum Bar.
Appearance
Personality
Relationships
In Yo-kai Watch, Castelius I is seen with Castelius II and Castelius III as partners in crime in the quest "The Test Fraud".
Abilities and Powers
Whomever Castelius I inspirits, they would be first place in anything, no matter how little effort they put in.
Stats
Stats
Calculation

HP

1

STR

1

SPR

1

DEF

1

SPD

1
This shows Castelius I's stat on level:

99

.
Type
Name
Power
Attribute
Range

Attack

Bone Crusher
100-150
Single enemy

Technique

Lightning
50-110
Thunder
Single enemy

Inspirit

Gold Power
Single ally
Covers an ally in gold and raises DEF.

Soultimate Move

Glorious Buh-Bye
250
All enemies and allies
Explosion that will deal damage to enemies and allies alike.

Skill

Gold Guard
Lessen Lightning and Water damage.
How to befriend
Fuse Castelius II with Castelius II.
Quotes
History
Castelius I is first summoned as part of Nathaniel's team in the 1st movie.
Anime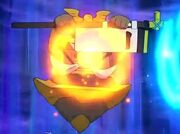 Trivia
Origin
The appearance of Castelius I (as well as its Japanese name) refers to the Kinkaku-ji ("Golden Pavillion Temple"), a Zen Buddhist temple in the Kita-ku ward of Kyoto, Japan. Originally sited on the grounds of a villa owned by the family of statesman Saionji Kintsune, it was purchased by the shogun Ashikaga Yoshimitsu and converted into a temple after his death. Officially called Rokuon-ji ("Deer Garden Temple"), the "Golden Pavillion" name refers to the lavish gold leaf finish that covered its three-story structure, up to the roof topped by a bronze phoenix ornament. The inside of the temple was also furnished with a statue of Yoshimitsu and a variety of paintings.
The temple grounds were devastated during the Onin War, and in 1950 the temple was burned down by a mentally unstable novice monk. In the following years until 2003, a painstaking restoration work was carried through until both the temple and its furnishing were fully restored, although it's debated how much of the original gold leaf was brought back. Regardless, it is still held as one of the major symbols of Kyoto,
Name Origin
"Kinkaku" translates as "gold pavillion" (Japanese: 金閣).
Other trivia
The Yo-kai Medallium bio references the comic booksuperhero Spider-Man and the much well known line, "with great power comes great responsibility".
 In other languages
Spanish: Castelius I
Italian: Castelius I
German: Kastellan I
French: Castelius I
Related Yo-kai
Ad blocker interference detected!
Wikia is a free-to-use site that makes money from advertising. We have a modified experience for viewers using ad blockers

Wikia is not accessible if you've made further modifications. Remove the custom ad blocker rule(s) and the page will load as expected.