Chummer


ミチクサメ

, Michikusame
| Attribute | Rank |
| --- | --- |
| | |
| Time | Type |
| --- | --- |
| Anytime | Present |
Side-games number
Chummer is not numbered.
Side-game favorite food
Chummer has no favorite food.
Base Stats

Total: 2590

HP


990

Spirit


880

Power


720

Speed


880

Defence


640
Stats of Chummer is unknown.
Yo-kai Medallium biography

"Chummer loves eating kids. He'll make them loiter after school before devouring them. He likes asparagus too."
Chummer (Japanese: ミチクサメ, Michikusame) is a Water-attribute C-rank Yo-kai from the Slippery tribe.
Biology
Chummer resembles an anthropomorphic shark with leafy greens in both his mouth and hand.
Personality
Relationships
Abilities and Powers
Chummer can make children loiter after school, then later he will devour them.
Stats
Stats
Calculation

HP

1

STR

1

SPR

1

DEF

1

SPD

1
This shows Chummer's stat on level:

99

.
Type
Name
Power
Attribute
Range

Attack

Maul
80
Single Enemy

Technique

Rapids
50
Water
Single Enemy

Inspirit

Loitering
Single Enemy
Makes a foe want to loaf instead of fight.

Soultimate Move

Sharkskin Shield
Self
Draws attacks and raises DEF.

Skill

Loiterer
Will recover HP when Loafing.
How to befriend
Chummer appears in the Springdale Underground Waterway. The easiest way to reach the area they are located if you've never been to the Springdale Underground Waterway before is to enter through the drainage pipe located on the western side of Uptown Springdale just near the canal.
Chummer can be found at the Hidden Workshop in San Fantastico.
Quotes
Befriended (Yo-Kai Watch): "Of all the chum I've chomped on, you're the chummiest!"
Befriended (Yo-kai Watch 2): "Of all the chum I've chomped on, you're the chummiest!"
Loafing: "Nah."
Receiving food (favourite): "Really good!"
Receiving food (normal): "Huh..."
Receiving food (disliked): "Why me?!"
Freed from Crank-a-kai: "Free at last! Wanna be...chums?"
History
Chummer was first summoned in the 1st movie as part of Nathaniel's team.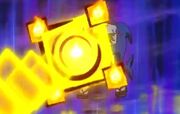 Trivia
Ironically, despite being depicted as an omnivorous Yo-kai, because Chummer's favorite foods are Vegetables in the games, he hates meat.
Name Origin
"Michikusame" is a portmanteau of michikusa ("loitering, fooling around", literally written as "roadside grass" as grassy roadsides are the archetypal spot for that sort of activity) and same ("shark").
"Chummer" is based on the word chum, which can mean "friend" or refer to a mixture of fish guts and blood, which is then scattered over water to attract sharks in a practice known as "chumming".
In other languages
Japanese: ミチクサメ Michikusame
Korean: 꿀꺽죠스 Kkulkkeokjyoseu
Spanish: Pellurón
Italian:Squacignolo
German: Lungerhai
Portuguese: "Trairão"