This article is in need of a better-quality image.

You can help this article or section by adding a better image.
Reason stated: Change the QR code image with a much more cleaner non fuzzy image.
Yo-kai Medallium biography

"Jibanyan made of emerald. If you could sell him, he'd be worth more than 100 million dollars."
Emenyan (Japanese: エメラルニャン, Emeralnyan) is a Rank A Restoration-attribute Rare Yo-kai of the Charming tribe.
Appearances
Biology
Emenyan is a pure emerald Yo-kai with big black eyes. It's muzzle and paw tips are solid white, while it's inner-ear and nose are gold. Around its belly is a pure gold band to match it's collar, which has a blue sphere hanging from it. The flames of it's tails are bright yellow. 
Profile
Scan Emenyan's Yo-kai Medal QR code at Piggleston Bank to obtain an Emerald Coin. Using it on the Crank-a-kai will award the Emerald Bell, which makes Emenyan appear.
Emenyan is in front of the Abandoned House on Mt. Wildwood, where he can be battled once a day until he's befriended through the regular method.
Code
Level

Emenyan
50
Emenyan is only available in the 2.0 Update, through the Mystery Way Crank-a-Kai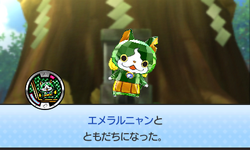 Emenyan is obtained through the Crank-a-kai with either a Tempura Coin or a Special Coin.

Game data
Evolution
Restoration Attribute


Emenyan
Fusion
Restoration Attribute


Emenyan
Stats

Stats
Calculation

HP

337

STR

151

SPR

171

DEF

151

SPD

191
This shows Emenyan's stat on level:

99

.
Yo-kai Watch: Wibble Wobble
Stats
Calculation

HP

343
Attack
489
This shows Emenyan's stat on level: 50.
Movelist
Type
Name
Power
Attribute
Range

Attack

Sharp Claws (Japanese: するどいつめ

Surudoi Tsume

)
10-45x2
Single enemy

Technique

Paradise (Japanese: 極楽の術

Gokuraku no Jutsu

)
80-120
Restoration
Single ally

Inspirit

Emerald Power (Japanese: エメラルパワー

Emerald Power

)
Single ally
Makes all of an ally's stats shine like a beautiful emerald.

Soultimate Move

Cutie Paws (Japanese: さわやかグリーン肉球

Sawayaka Green Nikukyū

)
20x10
All enemies
Attacks all opponents with his adorable emerald paws.

Skill

Linked Together (Japanese: じゅずつなぎ

Juzutsunagi

)
Stat boost for adjacent Yo-kai with same Skill.
Yo-kai Watch Wibble Wobble
Soultimate move
Cutie Paws
Pounds the enemy with the power of a thousand paws.
Level 1
Pop: 12~13 Wib Wob: 59pt.
Level 2
Pop: 14~15 Wib Wob: 69pt.
Level 3
Pop: 15~17 Wib Wob: 78?pt.
Level 4
Pop: 17~18 Wib Wob: 87pt.
Level 5
Pop: 19~20 Wib Wob: 94?pt.
Level 6
Pop: 20~22 Wib Wob: 96?pt.
Level 7
Pop: 22~24 Wib Wob: 100pt.
Etymology
His name is a portmanteau of "Emerald" and "nyan", the onomatopeia for the sound a cat makes.
Trivia
Emenyan is the only Jewel-nyan who does not have a elemental attribute. He instead heals adjacent Yo-kai.
In other languages
| Language | Name | Meaning |
| --- | --- | --- |
| Japanese | エメラルニャン | |
| Spanish | Esmenyan | |
| Italian | Smeranyan | |