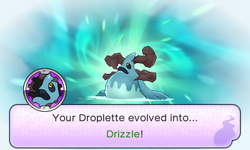 Evolution (Japanese: 進化, Shinka) is a process in which a Yo-kai changes into a different form. The evolution process can make the Yo-kai much stronger than its previous form and it will also gain an increase in Rank and power.
Description
There are 3 different kind of ways a Yo-kai can evolve: they can evolve either through leveling up, and through Fusion (Japanese: 合成進化, Gōsei Shinka, lit. "Synthesis Evolution"), either with another Yo-kai or with an item.
Yo-kai that evolve via leveling up can cancel their evolution as well, but they will evolve following the next level up. Those who evolve via fusion cannot.
List of Yo-kai that evolve
In other languages
Ad blocker interference detected!
Wikia is a free-to-use site that makes money from advertising. We have a modified experience for viewers using ad blockers

Wikia is not accessible if you've made further modifications. Remove the custom ad blocker rule(s) and the page will load as expected.