Gilgaros


妖怪

, Yamabuki Oni
| Attribute | Rank |
| --- | --- |
| | |
Side-game favorite food
Gilgaros has no favorite food.
Base Stats

Total: 3050

HP


1140

Spirit


570

Power


1340

Speed


920

Defence


1370
Stats of Gilgaros is unknown.
Yo-kai Medallium biography

"The strongest oni ever born. His power is so great that it needs no explanation. None. At all. Even this is too much..."
Gilgaros (Japanese: 山吹鬼, Yamabuki Oni) is a Lightning-attribute Legendary Yo-kai of the Tough tribe.
Appearance
Gilgaros strongly resembles his Boss Yo-kai counterpart Ogralus in that he is an imposing figure with clawed limbs, a fang-filled smile, two horns jutting from his head, and a red ponytail. He carries a huge spiked club. Unlike Ogralus, however, Gilgaros is a yellow-gold color and wears a purple scarf with some black splotches that matches his loincloth.
Personality
As a Yo-kai imprisoned behind the eight seals of the other Crank-a-kai exclusive Yokai, it can be said that Gilgaros is the most terrifying Yo-kai of all. However, upon his release, he is friendly enough to give his medal to the player, something no other Oni of his calibur would do until the second game, indicating he is at least thankful to have been released.
History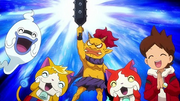 Nate, Jibanyan, Whisper and Tomnyan meet him in EP155. After playing a game of baseball with his oni breathrean, where he was the only one to get a home run, he gave Nate his medal.
Relationships
Abilities and Powers
Stats
Stats
Calculation

HP

1

STR

1

SPR

1

DEF

1

SPD

1
This shows Gilgaros's stat on level:

99

.
Type
Name
Power
Attribute
Range

Attack

Clobber
75-112
Single enemy

Technique

Lightning
50-110
Single enemy

Inspirit

Oni Power
Single ally
Gives an ally the insane DEF of an Oni.

Soultimate Move

Golden Beatdown
350
Single enemy
Crushes a single foe with all the might of a legendary Oni.

Skill

Extreme Critical
Power of critical attacks is high.
Busters stats
YW 2:
Gilgaros-Attacker
| Stat | Number/rank |
| --- | --- |
| Hp | 700 |
| Strength | S |
| Spirit | E |
| Speed | C |
| Button | Move/description |
| --- | --- |
| A | Attack (Hits a nearby enemy) |
| X | Full Attack (Hits a nearby enemy with massive damage) |
Soul
YW 2:
Gilgaros' soul-Strength up!
| Level | 1 | 2 | 3 | 4 | 5 | 6 | 7 | 8 | 9 | 10 |
| --- | --- | --- | --- | --- | --- | --- | --- | --- | --- | --- |
| Amount up | 10 | 13 | 17 | 21 | 25 | 29 | 33 | 37 | 41 | 45 |
How to befriend
Befriend the following Yo-kai to unlock Gilgaros' Medallium page. All of these Yo-kai can only be freed from the Crank-a-kai.
Quotes
Freed from Medallium: "Me Gilgaros! You FRIEND!"
History
Gilagros made an appearance in EP155. He appeared in Terror Time with the other Onis and Nate, Tomnyan, Jibanyan and Whisper during Setsubun.
Streetpass Item recieved
VoltXtreme
Marbled Beef (Rare)
Trivia
He is the most powerful Yo-kai which can be befriended in Yo-kai Watch.
Even though the Yo-kai Medallium describes him as the most powerful oni, Gargaros, Ogralus, and Orcanos have higher stats than he does , although he is arguably better in being competitive than Ogralus.
Gilgaros' elemental attribute is reminiscent of the thunder god Raijin.
Gilgaros is the only large Oni that can be befriended in Yo-kai Watch.
Name Origin
In other languages
Spanish: Dorantúo
French: Gorgouille
Italian: Gilgador
Ad blocker interference detected!
Wikia is a free-to-use site that makes money from advertising. We have a modified experience for viewers using ad blockers

Wikia is not accessible if you've made further modifications. Remove the custom ad blocker rule(s) and the page will load as expected.