Gourmet School Lunch
(Japanese: 給食のグルメ

Kyūshoku no Gurume

)
is a mini-corner which debuted in
EP038
and ended in
EP041
, with a preview appearing in the previous episode.
Plot
In the intro of each episode, the narrator states Yo-kai are present even in Lunch time and describes Lunch time as "one of the best times of children at school". In each Episode, Nate is inspirited by an unidentified, shadowed Yo-kai which causes him to comment and enjoy eating each dish slowly, almost like a food critic, given that he is given a more mature adult face when inspirited. However, just as he is about to take the last spoonful, it either falls on the floor or in the soup, or someone else snatches it and makes inedible, causing Nate to feel down
List of Episodes
Episode 1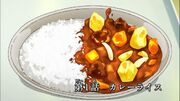 Episode 1: Stew!
(Japanese: 第1話「カレーライス」

Dai-Ichi-Wa Karē Raisu

)
Nate reflects on the stew and how it likes its meat rather than vegetables, which stew does like better and the fact how rice goes on well with the curry. Just as he is gonna eat the two píeces of meat he called "twins", Katie says hello, causing Nate to drop them onto the ground.
Episode 2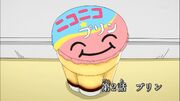 Episode 2: Pudding!
(Japanese: 第2話「プリン」

Dai-Ni-Wa Purin

)
Nate looks at Bear, who won pudding in a rock, paper, scissors contest, and then reflects on how fighting over pudding is for kids, how it is no good to eat it at once or not mixing the two flavors (while making a pun), and commenting on its flavor. Just as he wants to have the last spoonful, it falls into the ground, causing him to tearfully comment on this.
Episode 3
Episode 3: Cruller!
(Japanese: 第3話「揚げパン」

Dai-San-Wa Agepan

)
Nate reflects on the antiquity of the cruller and how it is wonderful for his school to have it. He then comments on how thinking of the calories dampens its enjoying, as he eats it with milk. Just as he is going to have the last bite, Bear snatches it instead, and Nate becomes shocked and disappointed.
Episode 4
Episode 4: Fried Chicken!
(Japanese: 第4話「唐揚げ」

Dai-Yon-Wa Kara Age

)
Nate refers to how fried chicken are the children of the gods and each piece is precious, but not equal. He refers to the lunch lady as a god called Fortuna, a goddess of luck and disguise. When she picks up a piece, it reveals a card (referring to Yu-Gi-Oh), and the pieces Nate gets all have the same amount of stars. He thanks Fortuna, while Eddie and Bear congratulate him on his luck. Nate draws a card (like in Yu-Gi-Oh) and says he has a perfect meal. While he eats his fried chicken with a fork, Nate says his chicken is juicy. But the last fried chicken he has is called a boss, and then falls off the fork, and Nate is devasted. He picks up the chicken from the soup it falls into, and Bear and Eddie are disgusted by the soggy chicken.
Trivia
Nate's visage and voice when he is inspirited and enjoying the food would be later referenced in EP105 when he is trying the Bacon made by Karikari Bacon.
Ad blocker interference detected!
Wikia is a free-to-use site that makes money from advertising. We have a modified experience for viewers using ad blockers

Wikia is not accessible if you've made further modifications. Remove the custom ad blocker rule(s) and the page will load as expected.