Komajuro


コマじゅうろう

, Komajūrō
| Attribute | Rank |
| --- | --- |
| | |
Side-games number
Komajuro is not numbered.
Side-game favorite food
Komajuro has no favorite food.
Base Stats

Total: 823

HP


443

Spirit


144

Power


236

Speed


172

Defence


53
Stats of Komajuro is unknown.

Komajuro (Japanese: コマじゅうろう, Komajūrō) is a Lightning Attribute Rank A Rare Merican Yo-kai of the Charming tribe
Appearance
Komajuro is Komajiro but wearing a 10 poker card entire, in front and back. He also wears a red cape, epaulettes, a knight's helmet, and gloves with red ends. He is seen carrying a golden staff with a red wisp on top.
Personality
Relationships
Abilities and Powers
How to Befriend
Komajuro, along with the other Card Yo-kai, can be obtained by scanning QR codes
Scan the QR code in the bank and receive the 10 Card
With this item, Komajuro will now show up in the Hazel House on the 2F East Wing in the library, where you can battle him in a daily battle.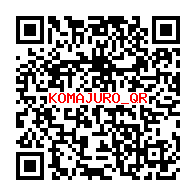 History
Trivia
Ad blocker interference detected!
Wikia is a free-to-use site that makes money from advertising. We have a modified experience for viewers using ad blockers

Wikia is not accessible if you've made further modifications. Remove the custom ad blocker rule(s) and the page will load as expected.