Komajuro (Japanese: コマじゅうろう, Komajūrō) is a Lightning Attribute Rank A Rare Merican Yo-kai of the Charming tribe.
Apperances
Biology
Komajuro is Komajiro but wearing a 10 poker card entire, in front and back. He also wears a red cape, epaulettes, a knight's helmet, and gloves with red ends. He is seen carrying a golden staff with a red wisp on top.
Profile
Komajuro, along with the other Card Yo-kai, can be obtained by scanning QR codes.
Scan the QR code in the bank and receive the 10 Card.
With this item, Komajuro will now show up in the Hazel House on the 2F East Wing in the library, where you can battle him in a daily battle.
Komajuro can be freed from the Crank-a-kai by using an Dream Coin.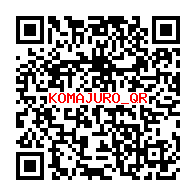 Game Data
Evolution
Lightning Attribute
 ???
Komajuro
Fusion
Lightning Attribute
 ???
Komajuro
Stats
Stats
Calculation

HP

1

STR

1

SPR

1

DEF

1

SPD

1
This shows Komajuro's stat on level: 99.
Attribute Tolerance
Tolerance of attribute attack
Strong × ⇒ △ ⇒ - ⇒ ○ ⇒ ◎ weak
Etymology
Komajuro is a portmanteau of Komajiro and "Ju" (Japanese:十), meaning ten.
Origin
Komajuro is based of the 10 card, one of the highest value playing cards.
Trivia