Welcome to Yo-kai Watch Wiki
Yo-kai Watch Wiki Highlights
FEATURED ARTICLE
The first episode of the Yo-kai Watch animated series was broadcasted in Japan on January 8, 2014, which was more than six months after the video game was released. It wouldn't be dubbed into English until it was aired in the United States on October 5, 2015, to coincide with the manga, video game and merchandise.

The episode focuses on Nate meeting Whisper at Mt. Wildwood after he gets unsealed from a mysterious capsule machine. To thank him, Whisper gives Nate a Yo-kai Watch, which would allow him to see Yo-kai behind regular daily occurances. Later on, he meets Jibanyan, who is determined to impress his former owner after he became a Yo-kai.

The whole premise of this episode is loosely based on the first chapter of the Yo-kai Watch video game, and serves as the overall pilot to the entire franchise. Read more...
Yo-kai Watch News
Yo-kai Watch 3 has just been announced for release in North America and Europe! North America will get it on February 3, 2019 while Europe will get it sometime this winter.

Yo-kai Watch Blasters: Red Cat Corps and White Dog Squad is finally released in North America, Europe and Korea, along with the free Yo-kai Watch Blasters: Moon Rabbit Crew update!

New & Upcoming Releases

Current News

April 13, 2017 - During the North American version of Nintendo Direct on April 12, 2017, they've revealed the debut of Yo-kai Watch 2: Psychic Specters. The game is known in Japan as Shinuchi and will be released in the Fall of 2017.
March 30, 2017 - Yo-kai Watch: Wibble Wobble has finally been released on iOS and Android in Europe.
February 3, 2017 - Nintendo of Europe announced the release date of Yo-kai Watch 2 on April 7, 2017 for Europe, during a press release.
December 15, 2016 - Yo-kai Watch 3: Sukiyaki has released in Japan.
October 27, 2016 - Yo-kai Watch became the highest selling game with a better start in Europe than Japan and North America. The game sold 400,000 copies to retailers in Europe. Yo-kai Watch merchandise became the best-selling merchandise in Spain.
October 18, 2016 - Yo-kai Watch sold better in Europe than North America. It sold a total of 290,523 copies, which North America sold 189,610 copies. France shows the highest of copies that has sold to retailers, which is a total of 121,746 copies.
October 15, 2016 - New expansion of Yo-kai Watch 3 has been announced. Sukiyaki, will be released in Japan on December 15th, 2016.
October 15, 2016 - Yo-kai Watch 2 has been released in New Zealand and Australia, today!
October 15, 2016 - The first Yo-kai Watch movie has been showned in theaters in North America, today.
October 8, 2016 - Yo-kai Watch 3 sold 15,541 and remains on the third spot. The game sold a total of 1,260,760 copies.
October 8, 2016 - In Europe, Yo-kai Watch copies will include an exclusive Enefly medal. For more information, look here.
October 8, 2016 - Yo-kai Watch 3 received the fourth spot, with 20,842 copies sold, reaching a total 1,245,218 sold copies. Yo-kai Watch 3 got dethroned by Utawarerumono: The Two Hakuoro and Persona 5.
October 7, 2016 - Yo-kai Watch Badges are available in the Nintendo Badge Arcade, however it is currently only available for Europe.
October 7, 2016 - Yo-kai Watch 2: Bony Spirits and Fleshy Souls shares third and ninth place as Amazon best selling games. Look here.
October 4, 2016 - Yo-kai Watch Land will receive a new update for North America, this includes the Yo-kai that arrived in Yo-kai Watch 2.
September 21, 2016 - Yo-kai Watch 2: Bony Sprits and Fleshy Souls will be released in North America on September 30. It will be released on October 15, 2016 in Australia and New Zealand. Europe, again, received the short end of the stick from Nintendo of Europe due to the animation localization and will not see Yo-kai Watch 2 until Spring 2017.
September 21, 2016 - The very first Yo-kai Watch movie will air in the theaters on October 15, 2016 in North America.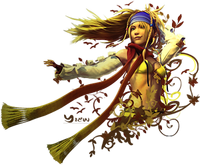 JRPG Games
Go to these sites for info or for help with your own wiki!
Aselia • Atelier • Breath of Fire • Chrono • Dinosaur King • Disgaea • Dragon Quest • EarthBound • Etrian Odyssey • Final Fantasy • Golden Sun • Hyperdimension Neptunia • Kingdom Hearts • Mana / Seiken Densetsu • Megami Tensei • Parasite Eve • Phantasy Star • Pokémon • Radiant Historia • Radiata Storys • SaGa • Star Ocean • Suikoden • Valkyria Chronicles • Valkyrie Profile • The World Ends With You • Xenoblade • Xenosaga • Yo-Kai Watch • Ys
Want your community included? See how!
See all of our JRPG gaming wikis!

Helping out
To write a new article, just enter the article title in the box below.
Not sure where to start?
Adding content