This article is in need of a better-quality image.

You can help this article or section by adding a better image.
Reason stated: '
Yo-kai Medallium biography

"A steel-bodied robot Draggie. Becoming Dragon Lord is beyond him now, but he's still quite powerful."
Robodraggie (Japanese: ロボりゅーくん, Robo Ryū-kun) is a Rank B Fire-attribute Rare Yo-kai of the Slippery tribe. 
Appearance
As the robot version of Draggie, Robodraggie is a small red robotic dragon Yo-kai. It has orange-yellow eyes surrounded by silver rings. It has silver fingers and navy blue spikes on its tail and the back of its head. The inside of its mouth is silver. Like Draggie, it has a ball on top of its head, but the ball is translucent and is attached to Robodraggie's head. It is also missing the orange tuft of hair that Draggie has.
Personality
Relationships
Abilities and Powers
Stats
Stats
Calculation

HP

1

STR

1

SPR

1

DEF

1

SPD

1
This shows Robodraggie's stat on level:

99

.
Type
Name
Power
Attribute
Range

Attack

Headsmack
15
Single enemy

Technique

Blaze
50
Fire
Single enemy

Inspirit

Steel Power
Single ally
The inspirited Yo-kai's DEF gets a big boost due to robot steel power.

Soultimate Move

Dragonic Burn
230
Single enemy
Beams of futuristic dragon energy blast a single foe.

Skill

Polarity
Builds STR as Soul Meter refills.
How to Befriend
Yokai Watch 2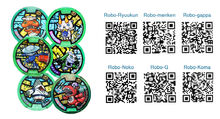 After scanning the QR Code to get the Draggie Cog, Rogodraggie appears on the leftmost side of the Ridgemont Station and can be fought once a day to be befriended normally.
Quotes
Befriended: "I'm a robot! Let's be friends."
Loafing: "*yawn*"
Being traded: "Uh, where am I? This doesn't look like the future I know!"
Receiving food (favorite): "Tastes great!"
Receiving food (normal): "It's OK."
Receiving food (disliked): "Ew! Put it away!"
History
Trivia
His main saying is his name then try on scales.
In other languages
Italian: Draghettobot
Spanish: Robodraqui
English: Robodraggie
German: Robodracki