Robogramps


ロボG

, Robo Jii
| Attribute | Rank |
| --- | --- |
| | |
| Time | Type |
| --- | --- |
| Anytime | Present |
Skill
Super Electromagnetic Power
Side-game favorite food
Robogramps has no favorite food.
Base Stats

Total: 3170

HP


1650

Spirit


930

Power


590

Speed


890

Defence


800
Stats of Robogramps is unknown.
Robogramps (Japanese: ロボG, Robo-Jī) is is a Rank B Restoration-attribute Yo-kai of the Heartful tribe.
Biology
Robogramps clearly resembles Hungramps, but having a medium gray robotic build. He wears a white kimono with a blue sash. Robogramps, like Hungramps, also has a single tooth at the lower part of his mouth.
In the Anime
In the Manga
Stats
Type
Name
Power
Attribute
Range

Attack

Headsmack
15
Single enemy

Technique

Restore
50
Single ally

Inspirit

Steel Power
Single ally
The Inspirited Yo-kai's DEF gets a big boost due to steely robot power.

Soultimate Move

Eat This!
230
Single enemy
Attacks a single foe with a beam of advanced hunger.

Skill

Polarity
Builds STR as Soul Meter refills.
How to befriend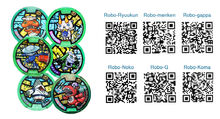 Robogramps can be found at Temple Park Station where he can be fought once daily until he is befriended the normal way (note you need the Hungramps Cog for him to appear)
Quotes
Befriended: "If I come with you, will there be food for me?"
Loafing: "Who's got rice?"
Being traded: "Did you know that in the future food is served in pill form? ...I'M SO HUNGRY!"
Receiving food (favorite): "Nice as rice!"
Receiving food (normal): "It's fine."
Receiving food (disliked): "Eh, don't think so."
History
Trivia
Origin
Name Origin
Related Yo-kai
In other languages
Japanese: ロボG Robojī
Korean: 로보영감 Roboyeonggam
Spanish: Roboabuzampa
Italian: Nonnobot
German: Robopa