Robonoko has an inappropriate image.

The image in Robonoko is inappropriate, which means that the image is not rendered, has a background, as well containing heavy pixels. Please switch the image.
Robonoko


ロボノコ

, Robonoko
| Attribute | Rank |
| --- | --- |
| | |
| Time | Type |
| --- | --- |
| Anytime | Present |
Skill
Super Electromagnetic Power
Base Stats

Total: 0
Stats of Robonoko is unknown.
Robonoko (Japanese: ロボノコ, Robonoko) is a Rank B Earth-attribute Yo-kai of the Slippery Tribe.
Appearance
A dark orange and white robotic serpent Yo-kai. It has dark slanted eyes on top of pale green circles. The flower on top of it's head is white and it has holes on the sides of it's body. The heart on the end of it's tail looks to be bubbling sky blue. Robonoko appears to resemble Noko.
Personality
Relationships
Abilities and Powers
Base Stats
Stats
Calculation

HP

199

STR

39

SPR

115

DEF

129

SPD

138
This shows Robonoko's stat on level: 60.
Type
Name
Power
Attribute
Range

Attack

Bite
15
Single enemy

Technique

Rockslide
50
Earth
Single enemy

Inspirit

Steel Power
Single ally
The Inspirited Yo-kai's DEF gets a big boost due to steely robot power.

Soultimate Move

Soothing Smile
150
All allies
An awkward robotic smile recovers all allies' HP.

Skill

Polarity
Builds STR as Soul Meter refills.
How to Befriend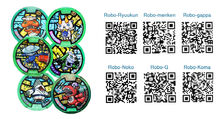 After scanning the QR Code to get the Noko Cog, Robonoko appears on the leftmost side of the Dingle Falls Station and can be fought and befriended via normal means once a day.
History
Quotes
When Befriended: "Oh no! I've been found..."
Trivia
In other languages
Italian: Robonoko
German: Robonoko
Ad blocker interference detected!
Wikia is a free-to-use site that makes money from advertising. We have a modified experience for viewers using ad blockers

Wikia is not accessible if you've made further modifications. Remove the custom ad blocker rule(s) and the page will load as expected.