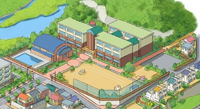 Springdale Elementary School, known in Japan as 
Sakura First Elementary School
(Japanese: さくら第一小学校

Sakura Dai-Ichi Shougakkou

)
, is the main school in
Springdale
.
Appearance
Exterior
Interior
Students and Staff
Year 5 Class 2 Students
Boys
Girls
Year 5 Class 1 Students
Atsushi Yamazaki
Ryouta Takahashi
Takumi Imai
Kanako Ooyama
Mahaja Raiji
Masaru Odagiri
Akira Miura
Toore Matsusaka
Mitari Kiritari
Kokoro Asaya
Chinami Hotta
Shougo Takehara
Ana Shibuya
Hayato Kuroda
Koyomi Urabe
Shunpei Nasegawa
Staff
In other languages
Italian: Scuola elementare di Valdoro
Ad blocker interference detected!
Wikia is a free-to-use site that makes money from advertising. We have a modified experience for viewers using ad blockers

Wikia is not accessible if you've made further modifications. Remove the custom ad blocker rule(s) and the page will load as expected.