This article is about a media that has yet to be released.

As such, some of the information might be inaccurate, and may change substantially as more information becomes available.
Please do not add speculation to this article, and cite a published source when necessary.

A Yo-kai Ark (Japanese: 妖怪アーク, Yōkai āku) is a small, key-shaped item used to summon Yo-kai from the Yo-kai Watch Elder in the Yo-kai Watch Shadowside series. They are said to be the successor of Yo-kai Medals, featuring Lightside and Shadowside Yo-kai on both sides.
Rare versions with different colors also exist. The levels of rarity from least to more rare are Normal, Rare, Extreme Rare, Super Extreme Rare, and Ultimate Rare.[1]
A Gold Rank is also said to exist, standing above Extreme Rare.
It has been stated that Normal Arks have a clear color and a regular holo foil, Rare Arks have a clear color and a glittering holo foil, and Extreme Rare Arks have the colors of their tribes, as well as glittering holo foil.
Information
Yo-kai Arks represent the feelings that connect Yo-kai and humans. Just like Yo-kai Medals, they are given to select people once they fulfill a specific Yo-kai's needs.
Yo-kai can be summoned via the Yo-kai Watch Elder by putting the Ark into the keyhole, and saying the summoning chant while the Yo-kai appears in sight.
It was originally thought that the Arks were successors to the medals, however, due to their inclusion in Forever Friends, the may have existed in the past as well.
List of Arks
Main article: List of Yo-Kai Ark Sets (Asian)
Merchandise
| Type | Box | Packet | Release date | Ark No. |
| --- | --- | --- | --- | --- |
| Yo-kai Ark 1st - Hiragame! First Door | | | JPJuly 14, 2018 | |
| Yo-kai Ark 2nd - | | | | |
Trivia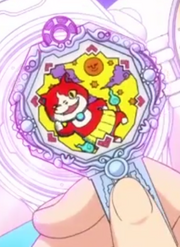 In early depictions of the Arks, including their debut in the 4th movie, they had the insignias of the old Yo-kai tribes. These were later replaced by the symbols of the Shadowside tribes.
References