A Yo-kai Medal (Japanese: 妖怪メダル, Yōkai Medaru) is a small coin-like disc used with the Yo-kai Watch to summon Yo-kai. They are featured in the video games and the anime, in which are given to the protagonists by Yo-kai as a sign of their friendship and stored in the Yo-kai Medallium.
There have been known to be many kinds of Yo-kai Medals that come in many different types and colors. One example are Z Medals, which are reserved for normal Yo-kai like Houzzat and Herbiboy and special Yo-kai like the Wicked Executives and the Onis that appear during Terror Time.
Yo-kai Medals also exist in real life, in the form of a collector's item. They have been known to be a big selling point for the franchise, and has expanded onto other international territories.
They are succeeded by Yo-kai Arks.
Information
It is known that almost every Yo-kai is known to hold a Medal, most notably in the anime. Whenever Nate finds a Yo-kai he hasn't seen before, he usually does certain deeds to get a Medal from them.
Yo-kai are known to store Medals in various places, before they are given to the bearer of the Yo-kai Watch. For example, Jibanyan's Medal is stored in his harmaki, while other Yo-kai like Tattletell are stored in various places. Medals are usually given to the Yo-kai Watch holder itself, rather than just being left behind so they can summon the Yo-kai at any time.
In the M02, Yo-kai Medals are made for the Yo-kai to hold. When Yo-kai are created, or died from humans in certain circumstances, they get their picture taken by a camera Yo-kai which shows up on their Medal. They are known to come in multiple copies.
Medal Types
Normal Medals

Normal Medals, (or also known as grey medals) is the first known type of Yo-kai Medal to be seen. They work with all of the normal Yo-kai Watches, except for the Model Zero and regularly summons a Yo-kai.
Z Medals

Z Medals are the second variation of Yo-kai Medals, and contains Yo-kai that aren't found normally. Some Medal types are compatible with the Model Zero watch, while some are only compatible with the Model U Watch.
Classic Medals

Classic Medals are known to be the oldest varation of Yo-kai Medals, and does not work on the original Yo-kai Watch. All of them contain Classic Yo-kai, which are said to be scarce.
Medals of Classic Yo-kai introduced in Yo-kai Watch 2 only work on the Model Zero and the Model U Watch, merchandise-wise.
U Medals
U Medals are green Yo-kai Medals with U's on them from some Yo-kai who debuted in Yo-kai Watch 3 and are used with the Yo-kai Watch U.
'Merican Medals
'Merican Medals are vibrant-red Yo-kai Medals from Merican Yo-kai and are used with the Yo-kai Watch U.
B Medals
B Medals are black (except for the Legendaries), with their artwork featuring their Yo-kai doing some sort of action, with the name being written in calligraphic font. Similar to the Z and U Yo-kai Medals, B Medals feature a distinctive marking in the upper right corner of 4 specific kanji, which vary depending on what that Yo-kai's role is as a Buster: Attack for Figthers, Heal for Healers, Odd for Rangers and Protect for Tanks. he kanji, much like the names, are written in a calligraphic font. The role of a Yo-kai as a Buster also influences the inner frame's color: Red for Attackers, Green for Healers, Purple for Rangers, and Dark Blue for Tanks. There are also B Medals that depict Boss Yo-kai. The B Medals that have Boss Yo-kai on them are known as Boss Medals
E Medals
Song Medals

Uta Medals (or known as Song Medals) are known to be a special variation of Yo-kai Medals. Unlike other medals, some of them are known to contain multiple Yo-kai and they sing a song while they get summoned.
Dream Medals
Dream Medals are the third variation of Yo-kai Medals, only compatible with the Yo-kai Watch Dream. They resemble poker chips, and play a roulette song while they're being summoned. Depending on the outcome, a Yo-kai will either win or lose, reflecting their mood on the situation.
Kuroi Medals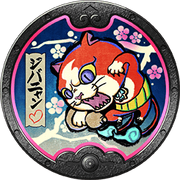 Kuroi Medals (or known as Dark Medals) are another special variation out of the Medals. They are known to have come from another dimension, where Yo-kai are scarier. They only work on the Kuroi Yo-kai Watch or the Yo-kai Watch Dream.
Trasure Medals

Merchandise
In real life, Yo-kai Medals are available as collectable toys. They're either found in blind packs, gasha machines (in Asia, usually), or bundled with Yo-kai Watch toys. On the back, there is a QR code that can be read in the game to obtain coins that can be used in the Crank-a-kai or special key items that would allow the player to fight certain Yo-kai.
The Yo-kai Watch is also available as a real-life toy, and can be used to insert Yo-kai Medals. If one of them is inserted, the Watch will act if it is summoning a Yo-kai by playing the tribe song and the Yo-kai's name will be said. The Medal can be taken out of the Watch at any time, and can be stored in a real-life Yo-kai Medallium.
Asian Medals
Yo-kai Medals that are sold in Japan, South Korea, Taiwan, or English-speaking countries like Singapore and Hong Kong are all manufactured by Bandai. They first came out in Japan around early 2014, when the Yo-kai Anime was making it's debut. They didn't really sell until Yo-kai Watch 2 was released, and caused Bandai to expand the franchise into other Asian countries.
Western Medals
Yo-kai Medals sold in North America, Europe, Oceania and Middle Eastern territories are manufactured by Hasbro. They were released in line with the Yo-kai Watch anime and video game back in Winter 2015, and has grown to expand in other international territories.
In Fall 2016, Hasbro released their version of Z Medals, going by the name of "Yo-motion". It allows the Model Zero watch to display holographic animations of the Yo-kai that was being summoned by the watch, after the tribe summoning song was played. In North America, the Yo-motion Medals only lasted for two sets unlike Europe.
In Spring 2018, An upgrade to Yo-motion technology known as "Yo-motion X2" was released in Europe. It features a version of the U Medals, which are now colored blue likely to distinguish between the green Yo-motion Medals.
Unlike Japanese and Korean Medals, Hasbro-manufactured Medals are not compatible with Japanese watches, nor Asian Medals are compatible with Hasbro-manufactured Medals. This is due to the medals themselves having a different bump pattern at the bottom, as both medal types cannot completely go inside the watch.
Yo-kai Watch Apps
To coincide with the release of Hasbro's Yo-kai Watch merchandise, an application for iOS and Android devices known as Yo-kai Watch Land was released. On the App, QR codes can be scanned so the player would get 3D Wiki images and the player would allow to take augmented-reality pictures of Yo-kai.
Like in the Japanese version, Yo-kai Watch: Wibble Wobble can read Yo-kai Medals direct from the Yo-kai Watch Land app. The more medals that is read, the more the player could exchange them for new titles and profile icons.
Criticism
Hasbro has been known to garner controversy, due to poor stock issues, region-locked Yo-kai Medals or limited quantities.
In the Yo-kai Watch (video game), only Hasbro-produced medals could be scanned via a QR Code, leaving the Gemnyans completely unobtainable for a long time without hacking. In 2016, Hasbro released a limited-edition set involving the five Gemnyan Medals, which caused controversy in the fandom.

Just like in the games, there is a real-life Yo-kai Medallium. There are different editions of the Yo-Kai Medallium, as well as additional pages (sold seperately), respective of each series' releases.
Compatibility-wise, all the Bandai versions (Japanese, English, Chinese and Korean) of the Yo-kai Medals features the same reading mechanism, which ensure the compatibility with other versions of the Bandai DX Yo-kai Watches. The only exceptions to this is the QR codes, which is different between versions (For example, the QR codes on the Asia versions of the Yo-kai medals does not work with the Japanese version of the Yo-kai Watch games.), The Hasbro version of the Yo-kai Medals are incompatible with the Bandai version of the Yo-kai Watches and vice-versa due to having different reading mechanism.
Yo-kai Medal Sets
Japanese/Asian Version
Yo-kai Medal Series
| Type | Box | Packet | Release date | Medal No. |
| --- | --- | --- | --- | --- |
| Chapter 1 | | | | |
| Chapter 2 | | | | |
| Chapter 3 | | | | |
| Chapter 4 | | | | |
| Chapter 5 | | | | |
Yo-kai Medal Zero Series
| Type | Box | Packet | Release date | Medal No. |
| --- | --- | --- | --- | --- |
| Vol. 1 | | | | |
| Classic Vol. 1 | | | | |
| Vol. 2 | | | | |
| Classic Vol. 2 | | | | |
| Vol. 3 | | | | |
Yo-kai Medal Revival Series
| Type | Box | Packet | Release date | Medal No. |
| --- | --- | --- | --- | --- |
| Chapter 1 | | | | |
| Chapter 2 | | | | |
Yo-kai Medal Busters Series
| Type | Box | Packet | Release date | Medal No. |
| --- | --- | --- | --- | --- |
| Vol. 1 | | | | |
| Vol. 2 | | | | |
| Vol. 3 | | | | |
| Vol. 4 | | | | |
| Vol. 5 | | | | |
Yo-kai Medal U Series
Type
Box
Packet
Release date
Medal No.
Stage 1
JPOctober 10, 2015
KO2016

16
Stage 2
Stage 3
Stage 4
Yo-kai Medal USA Series
| Type | Box | Packet | Release date | Medal No. |
| --- | --- | --- | --- | --- |
| Case 1 | | | | |
| Case 2 | | | | |
| Case 3 | | | | |
| Case 4 | | | | |
| Case 5 | | | | |
Yo-kai Medal Dream Series
| Type | Box | Packet | Release date | Medal No. |
| --- | --- | --- | --- | --- |
| Vol. 1 | | | | |
| Vol. 2 | | | | |
| Vol. 3 | | | | |
| Vol. 4 | | | | |
| Vol. 5 | | | | |
| Vol. 6 | | | | |
Yo-kai Medal Treasure Series
| Type | Box | Packet | Release date | Medal No. |
| --- | --- | --- | --- | --- |
| Vol. 1 | | | | |
| Vol. 2 | | | | |
| Vol. 3 | | | | |
| Vol. 4 | | | | |
| Shadowside | | | | |
| Vol. 5 | | | | |
| Vol. 6 | | | | |
Other Series
| Type | Box | Packet | Release date | Medal No. |
| --- | --- | --- | --- | --- |
| Sangokushi | | | | |
| Dark (Prologue) | | | | |
| Gum Vol. 1 | | | | |
| Gum Vol. 2 | | | | |
| Ramune | | | | |
| Z Ramune Vol. 1 | | | | |
| Z Ramune Vol. 2 | | | | |
| Z Ramune Vol. 3 | | | | |
| Busters Ramune Vol. 1 | | | | |
| Busters Ramune Vol. 2 | | | | |
| U Ramune Vol. 1 | | | | |
| U Ramune Vol. 2 | | | | |
| USA Gum Vol. 1 | | | | |
| USA Gum Vol. 2 | | | | |
| USA Gum Vol. 3 | | | | |
| USA Gum Plus | | | | |
| USA Ramune | | | | |
American/European Version
Regular Medals
Type
Box
Packet
Release date
Medal No.
Series 1
NANovember 2015
EUJune 2016

24
Series 2
NASpring 2016
EUSeptember 2016

24
Series 3
24
Series 4
24
Yo-motion Medals
Type
Box
Packet
Release date
Medal No.
Yo-motion Series 1
NASeptember 2016
EUFebruary 2017

34
Yo-motion Series 2
NAOctober 2016
EUMay 2017

34
Yo-motion Series 3
EUSeptember 2017

34
Yo-motion Series 4
EUDecember 2017

34
Yo-motion 2X Medals
| Type | Box | Packet | Release date | Medal No. |
| --- | --- | --- | --- | --- |
| Yo-motion 2X Series 1 | | | EUMarch 2018 | 34 |
See Also
Links