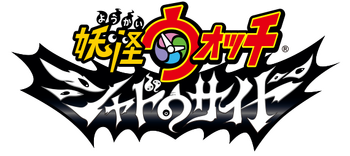 The Yo-kai Watch Shadowside (Japanese: 妖怪ウォッチシャドウサイド, Yōkai Wotchi Shadōsaido) anime is an animated Japanese horror-action-comedy series, and serves as the successor of the original Yo-kai Watch animated series. It premiered on April 13, 2018, two weeks after the finale of the original anime.
The series is set after the events of M04, which in turn is set thirty years after the original series and includes new characters like Natsume and Keisuke, the children of Nathan Adams & Katie Forester.
Information
The Yo-kai Watch Shadowside anime is set thirty years after the original anime series, and takes place shortly after the events of The Return of the Oni King. The series focuses on the main characters of the movie, who are known as Natsume, Touma and Akinori, who solve mysterious Yo-kai related incidents together.
In addition to them, Natsume's younger brother Keisuke, who only played a minor role in the movie, joins the main cast of the series, being it's fourth major protagonist.
Compared to the original series, Shadowside is a lot more plot-driven and serious in tone, while it still retains the sense of humor, and aims to cause widespread appeal across all age groups. The episodes are also all singular 30-minute episodes, compared to having one-to-four segments in the episode runtime.
Episodes
Series Overview
| Season | Episode No. | Episodes | First aired | Last aired |
| --- | --- | --- | --- | --- |
| 1 | TBA | SS001 - SS0?? | April 13, 2018 - TBA | TBA |
Episodes
Season 1
No.
Episode title
Japanese airdate
American airdate
SS001
Bourei Banchou (Japanese: 亡霊番長

Bōrei-banchō

)
April 13, 2018
SS002
The Bicycle Ridden By The Dead (Japanese: 死者の乗る自転車

Shisha no Noru Jitensha

)
April 13, 2018
SS003
Redhead the Plunder Demon (Japanese: 略奪魔 レッドヘッド

Ryakudatsuma Reddoheddo

)
April 20, 2018
SS004
Mottainai-otoko (Japanese: もったいない男)
April 27, 2018
SS005
Mannequin in Love (Japanese: 恋する人体模型

Koisuru Jindaimokei

)
May 4, 2018
SS006
Laughing Dogman (Japanese: わらうドッグマン

Warau Dogguman

)
May 11, 2018
SS007
Kaosake-onna (Japanese: 顔さけ女)
May 18, 2018
SS008
Al's Rebellion (Japanese: オーの反乱

Ō no Hanran

)
May 25, 2018
SS009
It's Called the Man-eating Tuna (Japanese: 人食いマグロと呼ばれて

Hito-kui Maguro to Yobarete

)
June 1, 2018
SS010
The Dreadful Joker the Ripper (Japanese: 戦慄の切裂きジョーカー

Senritsu no Kirisaki Jōkā

)
June 8, 2018
SS011
I am a Cat Yo-kai (Japanese: オレさまはネコ妖怪である

Ore-sama wa Neko Yōkai de aru

)
June 15, 2018
SS012
Captured Touma (Japanese: 捕らわれのトウマ

Toraware no Tōma

)
June 22, 2018
SS013
The Mystery of Prayer Mountain (Japanese: 祈り山の怪奇

Inori Yama no Kaiki

)
June 29, 2018
SS014
Fudou Myouou, Evil and Heaven (Japanese: 不動明王 邪と天

Fudōmyōō, Ja to Ten

)
July 6, 2018
SS015
A Beautiful Girl you only see every One Hundred Thousand Years (Japanese: 十万年にひとりの美少女

Jūman-nen ni hitori no Bishōjo

)
July 13, 2018
SS016
Dangerous Sea Bathing (Japanese: 危ない海水浴

Abunai Kaisuiyoku

)
July 20, 2018
SS017
The Cursed Fox and Kokkuri-san (Japanese: たたり狐とコックリさん

Tatari Kitsune to Kokkuri-san

)
July 27, 2018
SS018
Face Thief (Japanese: 顔どろぼう

Kao Dorobou

)
August 3, 2018
SS019
The Counterattack's Cicada Finale (Japanese: 逆襲の蝉ファイナル

Gyakushū no Semi Fainaru

)
August 10, 2018
SS020
The Illusionary Screen 0 (Japanese: 幻の0番スクリーン

Maboroshi no Zero-ban Sukurīn

)
August 17, 2018
SS021
Resurrection! Kenbumajin Suzaku (Japanese: 復活!剣武魔神朱雀

Fukkatsu! Kenbumajin Suzaku

)
August 24, 2018
SS022
Touma and the Piece of the Oni King (Japanese: トウマと鬼王のかけら

Tōma to Oniō no Kakera

)
August 31, 2018
SS023
Doctor C's Dark Medical Records (Japanese: ドクターCの闇カルテ

Dokutā Shī no Yami karute

)
September 7, 2018
SS024
Dreaming Hanaponcho (Japanese: 夢見るハナぽんちょ

Yumemiru Hanaponcho

)
September 14, 2018
SS025
Farewell, Micchy (Japanese: さらば、ミッチー

Saraba Micchii

)
September 21, 2018
SS026
The Demonic Swallow-Whole Toilet (Japanese: 悪魔の丸呑みトイレ

Akuma no marunomi toire

)

Akuma no marunomi toire

)​
September 28, 2018
SS027
Wandering Komajiro (Japanese: さまよえるコマじろう

Samayoeru Komajirou

)
October 5, 2018
SS028
The Cursed AI Assistant (Japanese: 呪いのAIアシスタント

Noroi no Ē-Ai Ashisutanto

)
October 12, 2018
SS029
The Bloody Clover of Tragedy (Japanese: 悲劇のブラッディクローバー

Higeki no Buraddi Kurōbā

)
October 19, 2018
SS030
Ayame Disappears (Japanese: アヤメ散る

Ayame chiru

)
October 26, 2018
SS031
A Fierce Fight! Suzaku vs. Genbu (Japanese: 決闘!朱雀 VS 玄武

Kettō! Suzaku VS Genbu

)
November 2, 2018
SS032
The Life-Eating Jorougumo (Japanese: 命を喰らう女郎蜘蛛

Inochi o kurau Jorōgumo

)
November 9, 2018
SS033
Hasty Satan Claus (Japanese: 慌てん坊のサタンクロース

Awatenbō no Satan Kurōsu

)
November 16, 2018
SS034
The Yo-kai-only Yo-kai Detective Team (Japanese: 妖怪だけの妖怪探偵団

Yōkai dake no Yōkai Tantei-dan

)
November 30, 2018
SS035
The Weeping Ballet Shoes (Japanese: すすり泣くバレエシューズ

Susurinaku Baree Shūzu

)
December 14, 2018
SS036
Shadowside Christmas (Japanese: シャドウサイドクリスマス

Shadousaido Kurisumasu

)
December 21, 2018
SS037
The Princess is in That Place (Japanese: 姫はそこにいる

Hime wa son'nani aru

)
December 28, 2018
Movies
No.
Image
Title
Release date
M04

Yo-kai Watch Shadowside: The Return of the Oni King (Japanese: 映画 妖怪ウォッチ シャドウサイド 鬼王の復活

Eiga Yōkai Wotchi: Shadousaido Oni-ō no Fukkatsu

)
December 16, 2017
July 4, 2018 (DVD)

December 7, 2018 (TV)

M05
Yo-kai Watch: Forever Friends (Japanese: 映画 妖怪ウォッチ FOREVER FRIENDS(フォーエバーフレンズ)Eiga Yōkai Wotchi Fooebaa Furenzu)
December 14, 2018